<!>
HAZEL'S LEGACY
a hurricane that changed our landscape forever
On October 15 and 16, 1954, Hurricane Hazel struck the Toronto area with a devastating reminder of the power of nature. By the storm's end, more than 285 millimetres (11 inches) of rain fell on the already sodden ground, causing some of the most severe flooding in Canada's history. In its aftermath, 81 people died and over 4,000 families were left homeless in Ontario. The total cost of the destruction in Canada was estimated at $100 million, the equivalent of about one billion dollars today.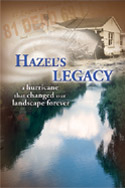 [Please click here to order Hazel's Legacy on DVD or VHS]
From the tragic loss of life and devastation lessons were learned that will forever influence the safe planning of our communities. A more coordinated approach between conservation authorities, local municipalities and the province took form after Hazel. Together, these organizations developed a comprehensive plan for flood control and water conservation. These efforts have significantly reduced the risk to life and property caused by extreme weather events.
[Click here to preview film : Broadband : Dialup.
Hazel's Legacy, a hurricane that changed our landscape forever explores the path Hazel took and the devastation it had on our communities. It examines how our knowledge of hurricanes and their impact has evolved and subsequently the initiatives that have been taken since Hazel to lessen the impacts of future extreme weather events. Weather statistics show that a hurricane the size of Hazel will likely happen again. This timely film explores the importance of communities being prepared.
This 30-minute documentary will captivate viewers with personal accounts that have never been publicly recorded before. The film includes interviews with famed Canadians, Pierre Berton and Betty Kennedy. Experts from the Ministry of Natural Resources, the Canadian Hurricane Centre, Toronto and Region Conservation and others in the field communicate the future of flood control management.
Hazel's Legacy is available for purchase on DVD and VHS exclusively through Toronto and Region Conservation at the Black Creek Pioneer Village and the Kortright Centre for Conservation gift shops as of October 19, 2004. Phone 416-661-6600, or print and complete the order form
[Please click here to order Hazel's Legacy on DVD or VHS]
A joint production by:




Generously sponsored by:


Sartor & Susin Limited